For members interested in creating, developing, and fostering strong partnerships and alliances with community organizations who share our mission to reduce health disparities. The Public Health Program also actively seeks volunteers ready to help with activities as the need arises in our community, such as our free health screening efforts with the Puerto Rico displaced community in Chicago during the Fall and Winter 2017. The Public Health Program emphasizes meaningful-impact activities within our communities in coordination with the Mentorship program in order to educate our youth to become community health ambassadors in their own families, schools, and neighborhoods.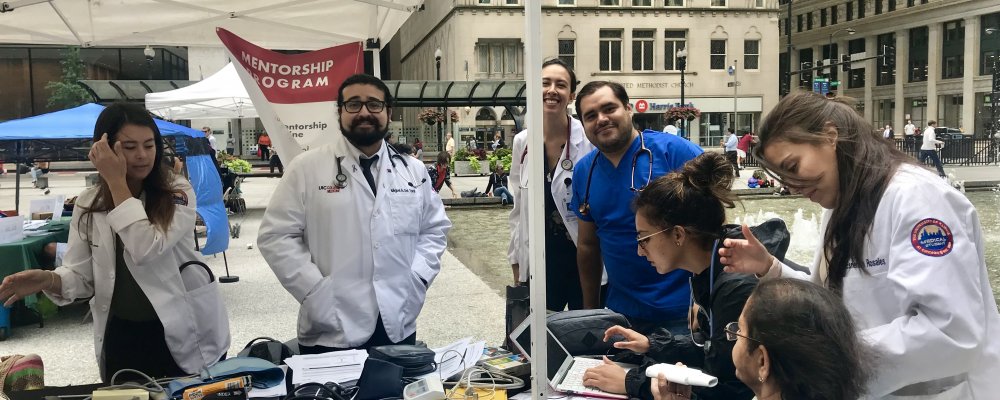 The main strategies for public health program implementation include:
Salud Pathways Initiative integrating mentorship, education, and public health missions of MOLA.
Community bilingual health education opportunities in coordination with community partner organizations.
Community bilingual health education opportunities in coordination with media partners and sponsors.
Public Health 2018 outcomes
Heart health event
2 Colon Cancer screening events
Men's Health event – by Dr. Pilar Guerrero
Daley Plaza Hispanic Heritage Month event – conducted asthma, hypertension and mental health screenings.
Mental health / Stress screening in Post-Hurricane Maria Puerto Rican population in Chicago
Pulmonary health and environmental triggers in Chicago Latino neighborhoods
Esperanza Health Centers
National Alliance for Mental Illness (NAMI)
Open Center for the Arts
Dr. Gunar Subieta
Dr. Luis Rivera
Dr. Jonathan Moreira
Dr. Pilar Ortega
Dr. Pilar Guerrero
Dr. Mary Eguía
Dr. Yessenia Castro-Caballero
Dr. Sonia Oyola
Dr. Fidel Castillo
Daley Plaza Hispanic Heritage Month event | asthma, hypertension and mental health screenings:
MOLA provided health screenings for the Latino community at the first Hispanic Heritage city event at Daley Plaza on September 19, 2108. We conducted nearly 100 bilingual screenings including blood pressure, lung function, and stress/mental health and provided referrals for follow-up care.
Heart health event
The Medical Organization for Latino Advancement (MOLA) conducted a  free health event with Curie High School and various community organizations to promote cardiovascular health, exercise, and making healthy choices.
The event, Heart Health 2018, offered the community a Health & Resource Fair, heart health screenings, CPR training, Zumba sessions, and more.  As part of National Heart Month and the Mentorship and Public Health Programs of the Latino physician-led association, the event aims to educate and energize the local community surrounding how to take care of their cardiovascular health.
In addition to offering participants blood pressure screenings, stress evaluations, "Ask the Doctor" tables and access to 20 community organizations, the event provides valuable experience to the 40 student volunteers that already participate in MOLA's Mentorship Program and aspire to work in health care.
'Working with other Latino physician leaders in MOLA is an amazing opportunity for collaboration. Each board member is truly committed to empowering the Latino community and it's this passion that pushes MOLA to achieve greater goals year after year'

-Luis Rivera, MD