The mission of the MOLA Mentorship Program is to provide sustained, professionally-supported relationships to underrepresented Latino/a students pursuing careers in health care.
The MOLA Mentorship Program aims to build a pipeline to health care careers for motivated high school and undergraduate students.  Mentorship is provided in a team-based structure across all levels: Health Care Leaders, Physicians, Resident Physicians, Medical Students, Undergraduates, and High School Students.

Being a mentor is an amazing and rewarding way to give back to the community and make a difference in the life of a young aspiring physician.
MENTORSHIP PROGRAM ACTIVITIES
Medical Simulation Program
Leadership Development
Monthly events with Latino-focused health care leaders and doctors
Opportunity to have a one-on-one or team mentorship with successful doctors and health leaders
Public Health Experiential Learning
Annual Latino Health Symposium
MENTORSHIP PROGRAM LEVELS
High School
Undergraduate
Team-based mentorship provided by health care leaders, physicians, residents, medical students, and International Medical Graduates (IMGs).
MENTOR AND MENTEE APPLICATIONS FOR THE 2021-2022 CYCLE WILL CLOSE ON AUGUST 28TH, 2021 AT 11:59 PM CST. HOWEVER, YOU CAN STILL APPLY TO BE INCORPORATED INTO OUR MENTORSHIP PROGRAMMING, YOU WILL JUST NOT BE ASSIGNED AN OFFICIAL MENTOR OR BE ASSIGNED TO A CASA.
If you are interested in becoming a MOLA MENTEE (all levels welcomed including: high school, undergraduate, medical school, resident), please click the button below to complete your MOLA MENTEE application.
If you are interested in becoming a MOLA MENTOR, please click here for instructions and click the button below to complete your MOLA MENTOR application.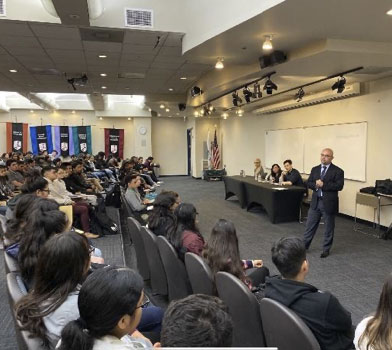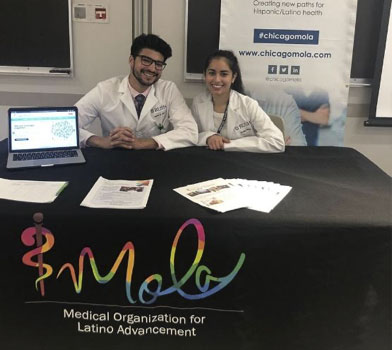 Mentees built a strong curriculum vitae and got their professional headshot taken at MOLA's CV Workshop and Headshots Session.
Mentees learned new skills using the manikins at Advocate Illinois Masonic Medical Center's state-of-the-art simulation center. Mentees also benefited from a joint event with Illinois Heart Rescue to teach a Basic Training: Bystander cardiopulmonary resuscitation (CPR) Class skills class.
Partnership with a mentorship focused organization: I Am Abel, and presentation at their annual conference.
Kicked off the Mentorship Program successfully at the 3rd Annual Latino Health Symposium with the MOLA Mentorship Breakfast. Committee members engaged the audience in a talk titled, "How to be an Effective Mentor and Successful Mentee".
Partnered with Junior Achievement of Chicago to host Doctor's Day. Chicago Public School students were exposed to amazing doctors through panels and participated in workshops that highlighted finances, career success, and basic life support.
Partnered with University of Illinois College of Medicine Hispanic Center of Excellence to provide MOLA's Mentorship Program an opportunity to hear the stories and advice of residents and MDs. Dr. Celeste Cruz closed the event with her inspiring story on how she became a breast surgeon and the work she currently does.
7 MENTORSHIP EVENTS
---
30 ENGAGED VOLUNTEERS
---
260 LIVES TOUCHED
Partnership with Advocate Illinois Masonic Simulation Center: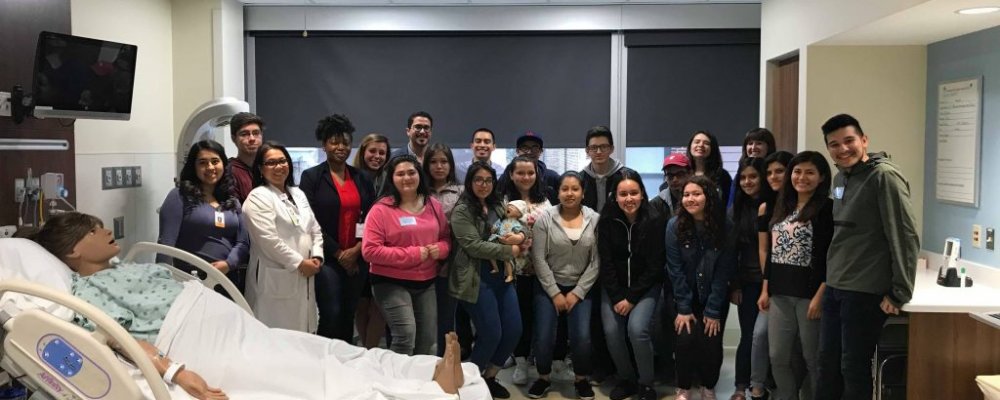 MOLA Simulation Team: our students learn and practiced life saving pediatric skills: CPR, choking, hand hygiene, newborn child care, vaccination, and vital signs. April, 2018.
The training program, developed in partnership with Advocate Illinois Masonic Medical Center, provides participating students with basic clinical training and expose them to real-world medical scenarios through the hospital's state-of-the-art Simulation Center.
In addition to learning from the program's physician mentors, students also learn basic medical knowledge, including first aid, vital signs, and CPR, and utilize these skills on robotic patients, also known as "manikins."  Through the program curriculum, students participate in emergency scenarios that could take place in the community such as childbirths and opioid overdose.  MOLA's students represent various Chicago Public Schools high schools, local community colleges, and universities.
"As a resident physician, being a part of MOLA allows me to stay connected to mentoring students and at the same time learning from local successful attending physicians as I plan the next steps in my medical career."

Toni Riveros, MD