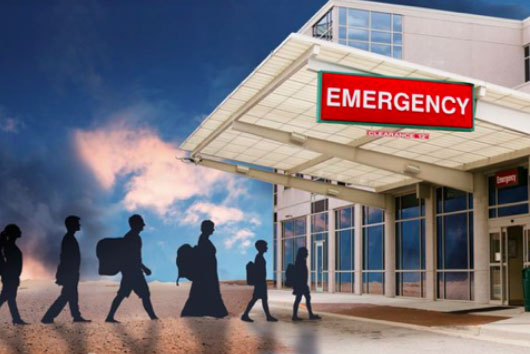 By: Alfonso G. Gómez, MS3 and Yanina Guevara, MS2
In a turbulent political climate, undocumented patients are fearful when seeking medical care. With the news and social media flooded with misinformation and hyperbole, patients are afraid to visit local clinics and hospitals for fear of deportation. Making matters worse, misinformation has not only affected the undocumented community but the medical community as well. Doctors are not familiar with what is the most appropriate manner to advocate for their patients when it comes to immigration status especially when Immigration and Customs Enforcement (ICE) officers enter what was once considered a safe space for this patient population.
For this reason, hospitals and clinics all over the nation are taking the initiative to develop policies and procedures that clearly outline how security and staff engage with law enforcement and ICE officers. For example, Yanina Guevara, a medical student at Chicago Medical School at Rosalind Franklin University and a MOLA intern, conducted a research project that evaluated the development of a health policy at  Rush University Medical Center. Rush Medical Center has already developed, implemented and trained their security on how to identify the difference between an administrative warrant signed by an ICE officer versus a judicial warrant signed by an impartial judge. These initiatives set a standard of how healthcare organizations and professionals achieve their mission and moral obligation to protect their patients regardless of status.
The Medical Organization for Latino Advancement is excited to support such initiatives as it is a first step in providing a more equitable access to healthcare for the undocumented community.
If you are interested in learning more or getting involved, please contact MOLA's Advocacy Committee by sending an email to [email protected] and include "MOLA Advocacy" in the subject line of your email.