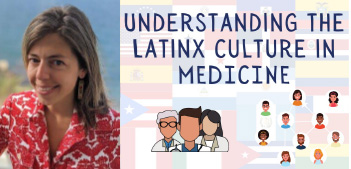 With Dr. Pilar Ortega
In this episode, Dr. Daniel Motta-Calderon (host) talks with Raquel Sofía Sandoval (invited student guest), fourth-year MD/MPP student at Harvard Medical School, and Dr. Pilar Ortega, MD (discussant), author, researcher, and expert on health communication, multilingualism, and equity. First, they shed light on the differences between race and ethnicity and defined identifiers like "Latinx" and "Latine" that some of our patients use to self-identify. They then focus on explaining some cultural themes and barriers that Latinx patients experience when accessing the healthcare system. The episode closes with some recommendations for listeners on best practices to establish linguistically and culturally competent care when taking care of Latinx patients. Listen to this informative episode here.
Shout out to Dr. Pilar Ortega's lovely comics regarding Medical Spanish! Thank you for the wonderful presentation at the 2021 LMSA National Conference!