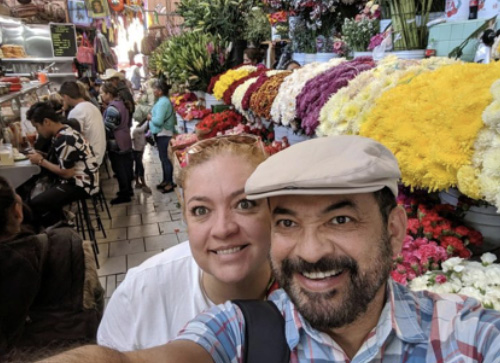 He's a director of business development for the greater Chicagoland area. An immigrant of Colombia, Oscariván is uniquely positioned to drive growth in a way that also addresses health disparities. In his role, he works closely with physicians to improve minorities' access to needed health care services in culturally sensitive and affirming ways. Oscariván has also held leadership roles with Medical Organization of Latino Advancement and Howard Brown Health, local non-profits focused on building health equity in underserved Latino and LGBTQ communities. While he has found profound meaning in his personal identity informing his work at Advocate Aurora, Oscariván has also found incredible support from his colleagues. "Being gay and being Latino are identities that help me carry out this important work of reaching underserved communities. I'm also incredibly grateful to work at a place like Advocate Aurora, where my identity is affirmed by my colleagues and leaders and where community partnerships and different ways of thinking are embraced."
Les presentamos a Oscariván, director de desarrollo comercial del área metropolitana de Chicago. Oscariván es inmigrante de Colombia y ocupa una posición única para trabajar en el impulso del crecimiento, buscando mitigar las disparidades de salud. Parte de su papel consiste en trabajar de cerca con los médicos para mejorar el acceso de las minorías a los servicios de atención médica de manera culturalmente sensible y de reafirmación. Oscariván también ha desempeñado funciones de liderazgo en la Organización Médica por el Progreso Latino (MOLA, por sus siglas en inglés) y en Howard Brown Health, dos organizaciones sin fines de lucro que buscan la equidad en salud para las comunidades subatendidas latinas y LGBTQ. Aunque ha encontrado un sentido profundo de identidad personal en su trabajo en Advocate Aurora, también ha encontrado un apoyo increíble en sus colegas. "Ser gay y latino son identidades que me han ayudado a llevar a cabo esta labor tan importante, como es llegar a las comunidades subatendidas. También estoy muy agradecido por trabajar en un lugar como Advocate Aurora, donde mis colegas y líderes reafirman mi identidad, y donde se acogen las colaboraciones con las comunidades y las ideas diferentes".
El Mes de la Herencia Hispana se celebra del 15 de septiembre al 15 de octubre. Durante todo el mes compartiremos historias, tradiciones y logros de los miembros. ¡Estén atentos!