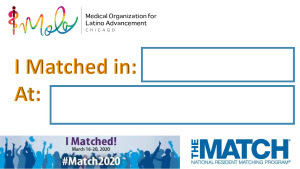 MOLA family, we want to celebrate YOU! Congratulations on your Match '21 for residency this year! If you Matched, please complete the following form here so we can feature you on social media.
*For those who did not match and could not obtain a position through SOAP this year, there are things you can do to improve your chance of securing a spot:
Do your best to elicit the reason(s) why you did not match and go from there.
Work on your confidence and pay attention to your mental health. You are a good doctor, and this is only a stone in your road.
Advocate for yourself, create a back-up plan, build strong relationships, ask questions, stay in touch, and strategically plan your next steps.
Additional resources can be found here.