In an article titled Nonprofit Work: Burnout Prevention for Students and Doctors? from Doc Thoughts, a physician active in non-profit work tells of his experience.
Many experts and physicians believe that engaging in work they have a passion helps them prevent symptoms of burnout and job dissatisfaction. Dr. Joaquin Estrada, whose work as a Colorectal Surgeon involves both a busy clinical practice and research, says that working for "MOLA reminds me why I went in to medicine."
As physicians, sometimes our job feels quite solitary as the primary medical decision-maker and can also have a lot of frustrations associated with it. According to Dr. Pilar Guerrero, MOLA board member, "Being part of MOLA provides me with a sense of connection to the community."
Some of our biggest frustrations are patient non-compliance, the so-called "poor historians," patients who don't take care of themselves together with the long hours and increasing demands of our job. Dr. Pilar Ortega, Emergency physician, is in a speciality that has one of the highest degrees of physician burnout, and says that being the President of MOLA and dedicating time to actually doing something about the reasons why patients are non-compliant and increasing their health literacy "feels like I am making an impact in tackling the real issues behind these problems rather than just complaining about them."
It's easy to get lost in the reasons why the job is hard when all you are focusing on are the metrics with which you need to be compliant or how well you document a chart. But when you turn that attention back to doing something that makes a difference in the community, such as mentorship, talking to patients at a health fair, or educating the community on preventive health, it gives you a true sense of place as a doctor and member of that community. "At the end of a long day or a long shift, that makes me much more satisfied," says Dr. Ortega.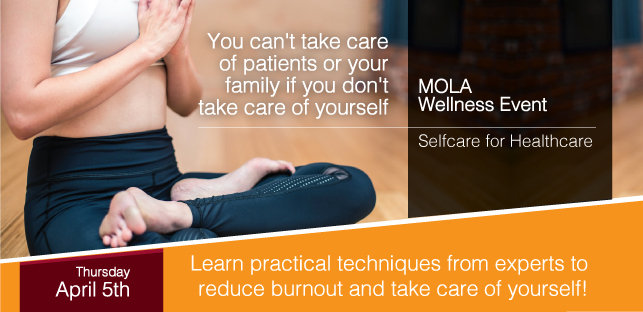 Join MOLA members and Integrative Medicine expert Dr. Sonia Oyola M.D. at our first Wellness Series Event.
Self-care for Healthcare
MOLA members attend this and other Wellness events for FREE!
Thursday April 5th
Learn practical techniques from an expert MD to manage and reduce burnout.
Have dinner and relax with us.
Meet others tackling these issues.
You are invited to this workshop on strategies for integrating mind-body practices into health care. MOLA's partner YogaCare will educate our members on how to address their own self-care and stress management needs. The goal of this Wellness and Advancement workshop is to learn resillience, protective factors and effective sefl-care strategies to be used for self as well as resources for our patients' stress management needs.