VII Annual Latinx Health Symposium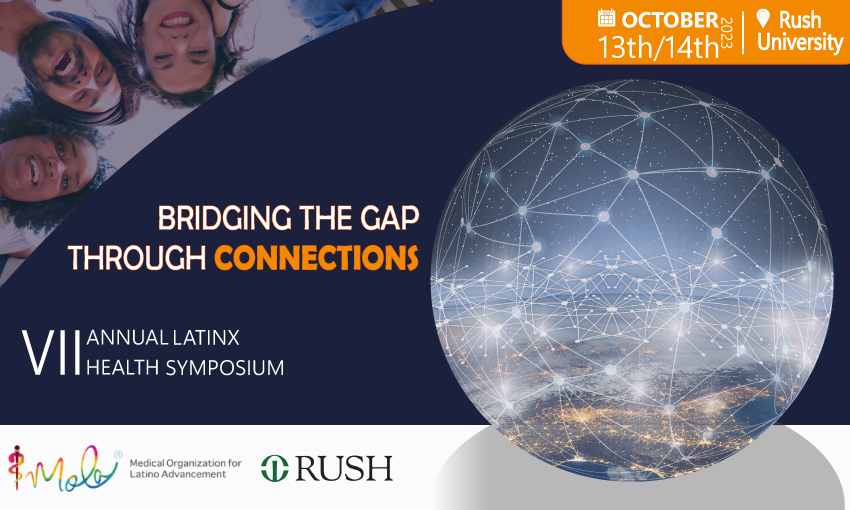 Bridging the Gap through Connections
Friday October 13 and Saturday October 14th 2023
Location: Rush University Chicago
The Latino Health Symposium is MOLA's all-membership educational event. The event will gather experts in healthcare, education, and advocacy and provide educational opportunities for physicians, health professionals, students, and all individuals who work toward improving Hispanic/Latinx health. In addition, an academic poster session will be a unique opportunity for participants to demonstrate their innovative scholarly achievements.
General objectives:
After participating in the Symposium, participants will be able to:
Understand key issues in Hispanic/Latino/a/x health and health disparities on a local, regional, or national level, while highlighting how technological advancements impact health and health disparities.
Identify evidence-based strategies and innovative technological advancements to address gaps and barriers in Hispanic/Latino/a/x health, particularly addressing new methods of disease prevention, diagnosis, translational medicine, and treatment options for Hispanic/Latino/a/x patients.
Describe innovative strategies that are being realized or proposed in current academic research, community practice, or educational development that have an impact on improving Latino/a/x health equity including the elimination of structural barriers and systemic racism.
Discuss strategies in health policy or education that address increased equity and representation of Latinos/as/xs in medical careers and identity formation unique to the skills and experiences of Latino/a/x professionals.
Audience
The target audience will include students, residents, attending physicians, healthcare professionals and individuals that work towards bridging health disparities in the Latinx community. The Symposium program will provide educational opportunities addressing issues affecting Hispanic/Latinx health and health disparities.
2023 Symposium Sponsorship
Equidad
$25,000
Benefits:

Naming of the symposium as main sponsor
Recognition from mainstage/podium
Large signage at prominent and high traffic location
Logo and company information on all printed/digital materials
Booth/table at event
Logo on website and newsletters
Highlight on social media platforms
Unlimited corporate attendees at all event components
One time single scholarship named after sponsor
Bienestar
$15,000
Benefits:

Naming of a specific component (i.e. track, breakout session,breakfast or lunch) of the symposium
Recognition from mainstage/podium as a Bienestar Sponsor!
Logo and company information on all printed/digital material
Signage at all symposium related events
Booth/table at event
Limited number attendees (10)
Recognized as scholarship program sponsor during every mentorship
event throughout the year
Avance
$10,000
Benefits:

Recognition from mainstage/podium as an Avance Sponsor
Logo on printed/digital material
Signage at booth/table area
Booth/table at event
Limited attendees (5)
Salud
$5,000
Benefits:

Logo on digital material
Signage booth/table area
Highlight on social media platforms
Limited attendees (2)