The mission of the MOLA Mentorship Program is to provide sustained, professionally-supported relationships to underrepresented Latino/a students pursuing careers in health care.
The MOLA Mentorship Program aims to build a pipeline to health care careers for motivated high school and undergraduate students.  Mentorship is provided in a team-based structure across all levels: Health Care Leaders, Physicians, Resident Physicians, Medical Students, Undergraduates, and High School Students.

Being a mentor is an amazing and rewarding way to give back to the community and make a difference in the life of a young aspiring physician.
MENTORSHIP PROGRAM ACTIVITIES
Medical Simulation Program
Leadership Development
Monthly events with Latino-focused health care leaders and doctors
Opportunity to have a one-on-one or team mentorship with successful doctors and health leaders
Public Health Experiential Learning
Annual Latino Health Symposium
MENTORSHIP PROGRAM LEVELS
High School
Undergraduate
Team-based mentorship provided by health care leaders, physicians, residents, medical students, and International Medical Graduates (IMGs).
If you are interested in becoming a MOLA MENTEE (all levels welcomed including: high school, undergraduate, medical school, resident), please click here for instructions and click the button below to complete your mentee application for the 2019-2020 school year (accepted on a rolling basis until filled to capacity).
If you are interested in becoming a MOLA MENTOR, please send a statement of interest and your CV via email to [email protected]
MENTORSHIP PROGRAM CALENDAR
| | |
| --- | --- |
| February 15, 2020 | Mentorship Event |
| March 21, 2020 | Mentorship Event |
| April 17, 2020 | Mentorship Event |
| April 18, 2020 | Mentorship Event |
| May 16, 2020 | Mentorship Event |
| June 20, 2020 | Mentorship Event |
| July 18, 2020 | Mentorship Event |
| August 15, 2020 | Mentorship Event |
| September 19, 2020 | Mentorship Event |
| October 17, 2020 | Mentorship Event |
| November 21, 2020 | Mentorship Event |
MENTORSHIP PROGRAM IN THE NEWS
February 3,

 Univision Chicago coverage: Organizaciones buscan motivar a los jóvenes de Chicago para que estudien medicina. Con un evento en el sureste de Chicago la organización MOLA enseñó a los jóvenes de la ciudad cómo tener una buena salud cardiovascular. Así mismo, los asistentes aseguraron sentirse incentivados para en un futuro estudiar alguna carrera relacionada con el campo de la salud.
February 2, Telemundo Chicago coverage: Programa busca interesar a jóvenes en la medicina Profesionales motivan a jóvenes latinos a ingresar en el sector de la salud.
March 4 , Noticias Telemundo coverage: Faltan médicos hispanos en EEUU. Solo el 5,1% de los estudiantes graduados de medicina en el periodo 2016-2017 en EEUU eran latinos, al tiempo que crece la demanda por profesionales bilingües en el país
Chicago Public School partnerships in three locations with high health care needs and high number of Latino students.
Summer research intership program for Chicago Students and projects presented during MOLA Latino Health Symposium 2018.
Partnership with a mentorship focused organization: I Am Abel, and presentation at their annual conference.
Mentees participated in Clinical Simulation as part of MOLA's partnership with Advocate Illinois Masonic Simulation Center.
Mentorship presentation at Building the Next Generation Academic Physicians (BNGAP) regional conference at Loyola Stritch School of Medicine.
Partnership with Advocate Illinois Masonic Simulation Center: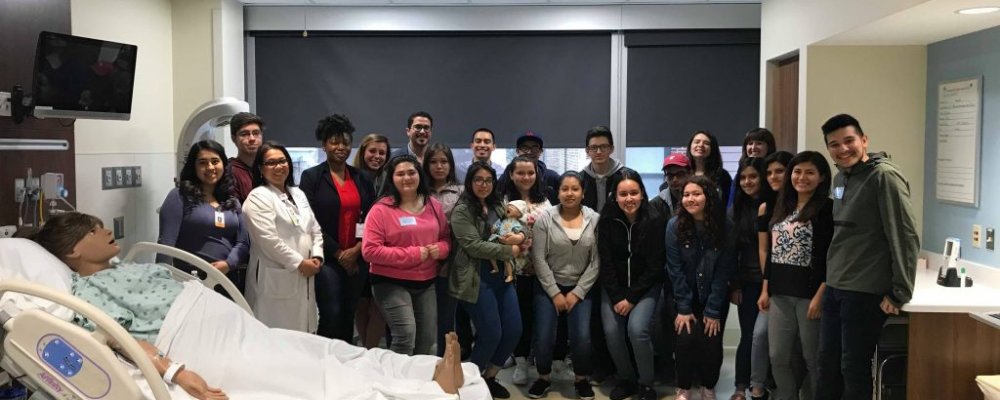 MOLA Simulation Team: our students learn and practiced life saving pediatric skills: CPR, choking, hand hygiene, newborn child care, vaccination, and vital signs. April, 2018.
The training program, developed in partnership with Advocate Illinois Masonic Medical Center, provides participating students with basic clinical training and expose them to real-world medical scenarios through the hospital's state-of-the-art Simulation Center.
In addition to learning from the program's physician mentors, students also learn basic medical knowledge, including first aid, vital signs, and CPR, and utilize these skills on robotic patients, also known as "manikins."  Through the program curriculum, students participate in emergency scenarios that could take place in the community such as childbirths and opioid overdose.  MOLA's students represent various Chicago Public Schools high schools, local community colleges, and universities.
"As a resident physician, being a part of MOLA allows me to stay connected to mentoring students and at the same time learning from local successful attending physicians as I plan the next steps in my medical career."

Toni Riveros, MD