Conference Objectives
At the conclusion of the conference, attendees will be able to:
Understand key issues in Hispanic/Latino/a/x health and health disparities on a local, regional, or national level, including as a result of the COVID-19 pandemic
Identify evidence-based strategies to address gaps and barriers in Latino/a/x health and discuss options for implementation of "best practices" with Latino/a/x patients and communities.
Describe innovative strategies that are being realized or proposed in current academic research, community practice, or educational development that have an impact on improving Latino/a/x health equity.
Discuss strategies in health policy or education that address increased equity and representation of Latinos/as/xs in medical careers and other areas of health professional advancement.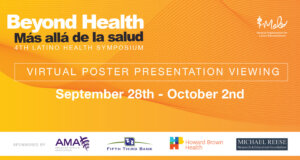 Symposium Scientific Committee
Pilar Ortega, MD – Education & Research Committee and Symposium Co-Chair
Arielle Guzman, MPH – Education & Research Committee and Symposium Co-Chair
José Alberto Figueroa – Education & Research Committee and Symposium Intern