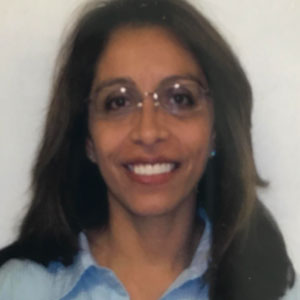 PILAR GUERRERO, MD
Board Member
Dr. Pilar Guerrero obtained her BS in nursing and majored in Spanish Language and Literature. After practicing as a registered nurse for 6 years, she decided to embark in a medical career and obtained her medical degree from University of Michigan Medical School, followed by Emergency Medicine residency at SUNY Downstate/Kings County Hospital New York, becoming chief resident in her fourth year. She then completed a one year research fellowship in the department of Emergency Medicine at Johns Hopkins Hospital.
After a short time of practicing in private, non-academic hospitals as an Emergency Medicine attending, she realized her passion included teaching/training students and residents, as well as caring for the uninsured, disadvantaged and the LEP (Limited English Proficiency) patients.
Dr. Guerrero has been working as an attending at Stroger Cook County Hospital for the last 14 years and is an Assistant Professor at Rush Medical Center. Her interests have also included teaching medical Spanish, doing clinical research and disaster medicine. She has taught medical Spanish to attending physicians, and now to Emergency Medicine residents. Her clinical research projects have been on asthma, diabetes, H1N1. In addition she is an active member of IMERT (Illinois Medical Emergency Response Team). She has participated in disaster aid or city-wide events (i.e., post Katrina, NATO summit, marathons, and rural health with Global Brigades in Honduras). Currently, she is working on initiatives to improve patients' experience in the ED.