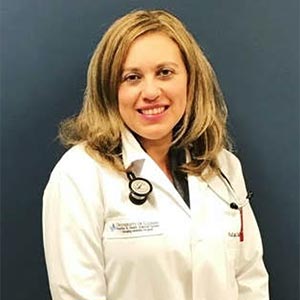 Katya Cruz Madrid, MD
Board Member
Dr. Katya Cruz Madrid is a Clinical Associate Professor of Medicine in Geriatrics of University of Illinois at Chicago. She completed her Residency in Internal Medicine in Michael Reese Hospital in Chicago Illinois in 2008. She completed a fellowship in Geriatric Medicine and Research Geriatrics track in UIC from 2008 to 2010.
Dr. Cruz Madrid is a board certified in Internal Medicine and Geriatrics Medicine.
She is currently an attending physician, working in Jesse Brown VA Medical Center and has an academic appointment at the University of Illinois at Chicago, where she works and is involved in teaching and collaborating in different research projects. She is also an active member and a co-chair of the Public Health Committee for The Medical Organization for Latino Advancement (MOLA).
Dr. Cruz Madrid's interest and passion are related with, community engagement and education, cultural barriers in healthcare,  and improving and promoting a life long good quality of life for older adults.